32One Website Builder with SHOUTcast WIdgets
32One Website Builder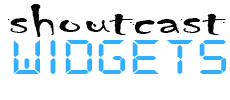 SHOUTcast Widgets for your Website!
SHOUTcast Widgets makes it EASY to include the latest AJAX/jQuery scripting on your current website with only a single line of code! Don't have a website? Use the included website builder and you'll have a professional radio station website in minutes!
Use one of over a dozen copy/paste widgets into your current website such as the currently playing stage with Facebook "Like Song", LastFM Artist Details, DJ Schedule System and more!
Order SHOUTcast Widgets Now
SHOUTcast Widgets Live Demo
Screenshots of Control Panel
SHOUTcast Widgets Mobile Demo
Popup Player Demo (easy to customize)
Automated Artist Showcase with Artist Image and Biography
The included SHOUTJockey plugin allows you to create a custom frame for each artist that plays, the system will first scan each mp3 that is played and pull the artist biography/image from the LastFM database, after which your able to change the biography and/or image!
Customize & Integrate SHOUTcast Widgets into any Website
Build your widgets with your choice of color, styles, fonts and more! Code can then easily be embedded into your current website or blog. Our code generators allow you to perfectly match SHOUTcast Widgets with your exact type of website theme to give it that professional look your after.

The Timeline Widget is the most popular option for displaying current and upcoming events. With your choice of time zone & color, you can easily customize this widget to fit your current website, or can be included in the built in SHOUTcast Widgets Website Builder!
Event & DJ Scheduling System
SHOUTcast Widgets gives you several options to let your listeners know what's show is playing and what's up next on your station. Fully automated, as each event time passes, they is automatically set to play the next day, or week. Create events that repeat daily, weekly, weekdays only or single events.
32ONE Website Builder Control Panel
The 32ONE Control Panel makes managing and controlling your website as easy as it gets, create pages, sell a product, provide online radio, construction, painting -- whatever your business may be, the 32ONE Website Builder can get the job done with ease! All options you have in the 32ONE Website Builder are clearly labled on the left sind menu. Your main dashboard (pictured below) provides you a overview of your system including the latest visitors, public link to your website, active services such as currently running ads, any pages you may have and more.
Mobile Website & Player
Our new mobile version's player works in all major browsers, both mobile and standard. Enable/Disable text ads, social buttons, or even rediect your mobile visitors to the mobile version or to your main website.

Already have a Website? Copy/Paste SHOUTcast Widgets are also included in the 32ONEWEBsite Builder which allow you to easily embed them into your webpage, blog, etc. Your also able to include each widget into any page of your 32ONEWEBsite Builder! HTML5 Player, Pop-Up Player, Last FM API with artist image and short bio and more!
View Widgets Demo Page
Works with Android & iPhone using HTML5. The 32ONE Sitebuilder comes with a custom mobile page that works in most any browser and includes mobile framework, artist image and bio, publish text ads and more.
Try the Mobile HTML5 Player Demo
DJ Scheduler & Event Calander Create and Schedule all your dj's, the 32ONE event calander has both public and private view, upload images of your dj's, embed the calander widget onto your current website!
View Public Calander of Events
| | |
| --- | --- |
| | The 32ONEWEBsite Builder includes it's own shopping cart with one time and/or recurring payments via internal Stripe Gateway and/or PayPal. These powerful gateways allow you to charge clients for membership based services, automatically bill the clients credit/debit card or PayPal subscriptions. |
The Social Network Traffic Generator allows you to require a visitor to either "Like", "Tweet", or "+1" in order to view the page. You are able to change the message that is displayed, limit the amount of time the visitor must wait if he/she choose not to link to you via their social network in seconds.
For a working example of the Social Network Traffic Generator Click Here
| | |
| --- | --- |
| | 32ONEWEBsite Builder can also work as your Streaming SHOUTcast Radio Station Website with SHOUTcast Integration including the new popular HTML5 media player, and using the LastFM API each artist's image and short bio is displayed in the player. Auto Start, Player Theme Manager, works with either SHOUTcast v1 or SHOUTcast v2! |
Complete Statistics with Geo Location
Each of your visitors to your 32ONE Website is logged and stored in a data table which allows for easy searches and includes the user IP address, city, state, country, total amount of visits, users browser and o/s, timestamp, local area code and more!
Google Analytics Integration
Social Marketing Options
Contact and Email System
Group Chat
Shopping Cart System with Stripe / PayPal Gateway
Knowledge Base
Live Help
Works with SHOUTcast v1, SHOUTcast v2 & Icecast KH Servers
Last FM API w/ Artist Image & Artist Bio
Event Timeline demo

Internal Ad System
Search Engine Optimization
Upload Logo & Avatar
Facebook Photo Gallery Integration
SHOUTcast v1 & v2
Last FM Artist Bio and Image
HTML5 / Flash Media Player
Widgets & Plugins Manager (SHOUTcast, Shopping Cart, Live Chat & more)
Social Connect (Facebook, Twitter, Google Plus, Linked-In)
HTML5 / Flash Media Player
DJ Profiles
We've developed the 32ONEWEBsite Builder with you in mind! You are able to quickly make changes to your website with a simple and easy to use control panel. Best of all, the 32ONEWEBsite builder is PACKED with several unique features including a built in payment processor system, Social Connect, Ad's Manger and more!
Already have a Web Site? We've included the code for all SHOUTcast Widgets such as the popular Last.FM API with Artist Bio and Image so you can easily EMBED them on your website or blog! If your able to include code into the HTML or SOURCE of your website builder, or web editing software (just like you would embed a YouTube video on your site), and have a SHOUTcast v1 or SHOUTcast v2 server, the 32ONEWEBsite builder will work with and integrate into your site.


Order SHOUTcast Widgets