Suporte
>
My Auto Dj Forum
>
Products & Services
>
SHOUTcast Widgets - Developed and Managed by My Auto Dj!
>
New Template! 100% Responsive Web + Tablet + Mobile!
New Template! 100% Responsive Web + Tablet + Mobile!

My Auto Dj Offline Topics: 32 Replies: 39 Joined: 10/24/2009
Name or Company : My Auto Dj
The Artist 2016 Responsive Template
This advanced SHOUTcast Widgets Template is a single page design and a re-work of "The Artist" template we put out back in 2013 featuring the latest in jQuery and AJAX with NO CODING SKILLS REQUIRED!
100% Responsive Design
Mobile Optimization Option
Choose any color in the spectrum for template color
Set your panel to public to be listed in the directory, requires seo setting including genre and website title.
Single page design so the music keeps playing
List up to 2 mountpoints (if SHOUTcast 2 mountpoint is mandatory)
Built in Newsletter form with Mailchimp integertion (2,000 emails /m free) learn more
Last played songs, events and current song playing sections all refresh using jquery - no messy iFrames!
Includes Pay-Per-Click or Pay-Per-Impression text ads (Paypal & Stripe Supported)
Change the currently playing transparency and location
Multi-Language - Set defult language in General Settings, Visitors can change to their own language which is saved in their browser as a cookie for return visits.
http://32oneweb.com/client/templates/R-theartist/?username=djwilliec
---
Installing The Template
In your SHOUTcast ADMIN, click on Website Builder > Template Manager
In the search box search for The Artist, find the new responsive theme and click on "Use This Template"
Template Options
In your SHOUTcast ADMIN, click on General Settings > Template Settings
Stage Location - This is the location of the main stage that shows the song title/artist, artist image and bio
Stage Transparency - The higher the value the darker the background of the stage
Header Style - There are 2 sylyes for the top menu bar .. only A and B are valid choices
Show Twitter Banner in Footer - To show/hide the Twitter banner near the bottom of the page
Current Show/Next Show Top Widget - This can turn the top current/next show widget on or off. To turn on select a which is the transparency of widget, the higher the value the darker the background.
Colors
You can set the color of the template under General Settings. Look for the 3 color boxes on the right.
Language
You can set the default language under General Settings. Look for the language dropdown just below the colors. The visitor also has the option to switch the language which is stored in their browser as a cookie for return visits.
Last Played Songs
The last played song widget can be enabled/disabled under General Settings > Widets > Display Last Played Songs on Website. This can also be enabled/disabled for mobile devices under General Settings > Mobile
Public vs Private
If you set your website to public and listed, you are agreeing to list other SHOUTcast Widgets streams in the player at the top of the page. In return your station will be listed (up to 2 mountpoints) . To disable in your SHOUTcast Widgets click on the huge button at the top of your main dashboard titled Directory
Newsletter Subscription
With the help of Mailchimp, you can easily gather your own email list(s) and send out professional newsletters whenever you like! This requires a Mailchimp membership (free), your allowed up to 2,000 subscribers free. Setting up your Mailchimp account and completing the required steps does take several minutes, when enabled you'll see the new Newsletter Bar near the bottom of your page.
Where do I get my Mailchimp Form URL?
​Mobile Version & Optimization
Most of your listeners typically stream via mobile device, tablets, Android Auto, etc. Because of this, we highly recommend you set up a AAC+ stream on your station for several reasons. For one, a single 32Kbs AAC+ stream is the same quality as a 128Kbs mp3 stream. It's a lot easier to stream 32K Bytes a Second then it is 128 Kbs, cheaper for both the listener's cell phone data plan, and your streaming hosting package. Buffering is also a lot less likely, and with the world turning to mobile everything, this would not only save you money in bandwidth, but gain your listener stats up with more stable streams that won't kill their monthly cell phone plan. Adding a 2nd AAC+ stream is easy and free for all My Auto Dj clients, just open a ticket. SHOUTcast 2 server is required.
Fast loading pages are also very important for the website end and we've introduced sevral new features with this new theme which will allow you to give your listeners a fast loading webpage with a media player that supports both mp3 and aac+ format and the corret mobile seo meta tags and coding already taken care of!
In your SHOUTcast Widgets panel, click on General Settings > Mobile for optimization settings and impact size.
Cache Control is highly recommend and will aid in faster load times. You can change this setting in your SHOUTcast Widgets panel, click on General Settings > SEO Enable Cache Control Header
Cache Control - It is recommended you leave this set to off when building your website, only when complete should you enable this. Setting this to yes will cache the page to allow for faster loading. If you enable cache control, if you make a change in the website builder, you may have to hard refresh or clear your browser cache to view the changes.
Learn More About Cache Control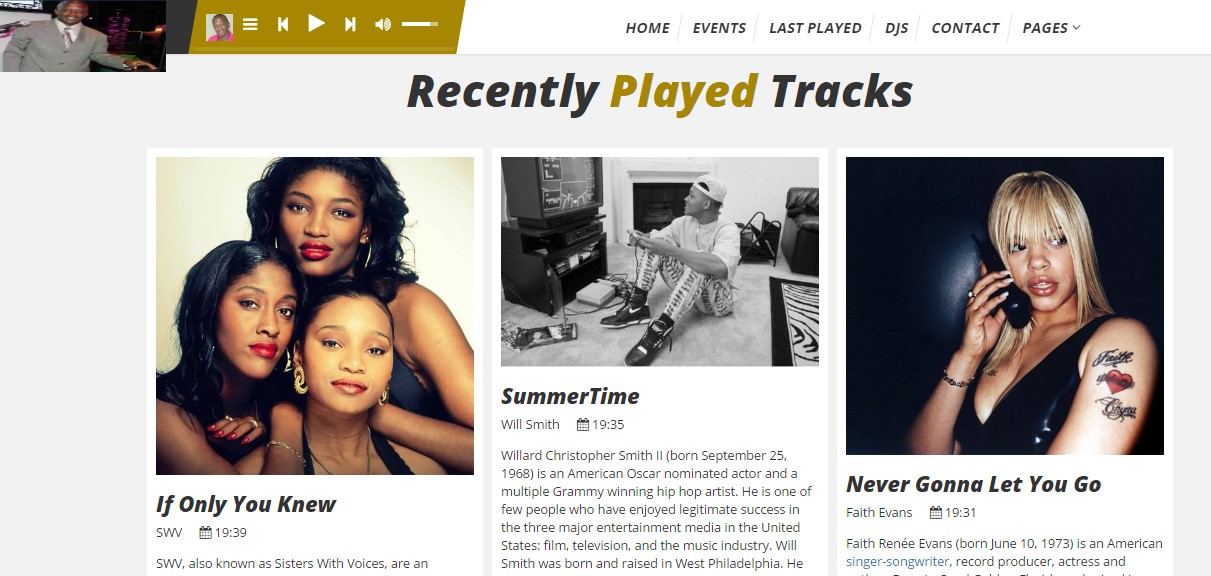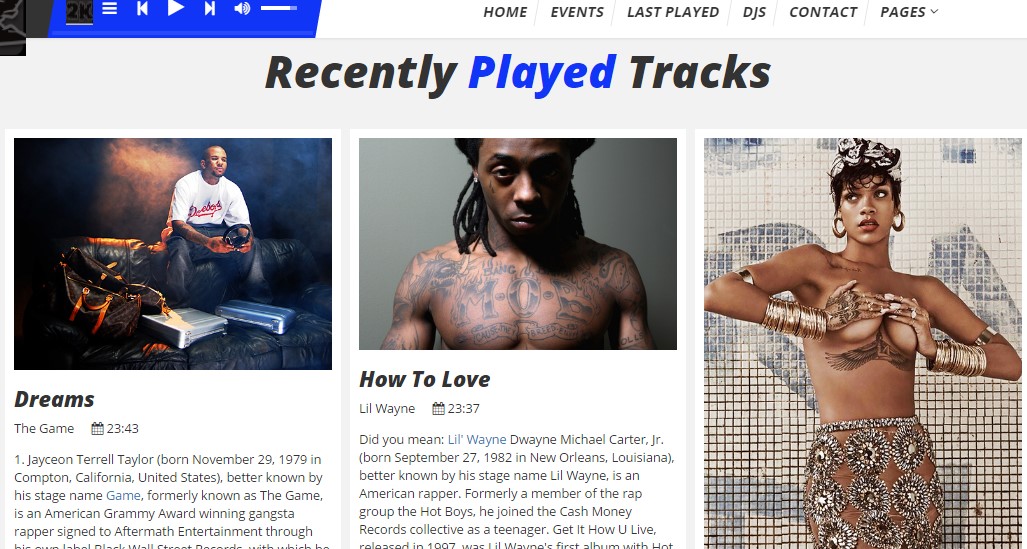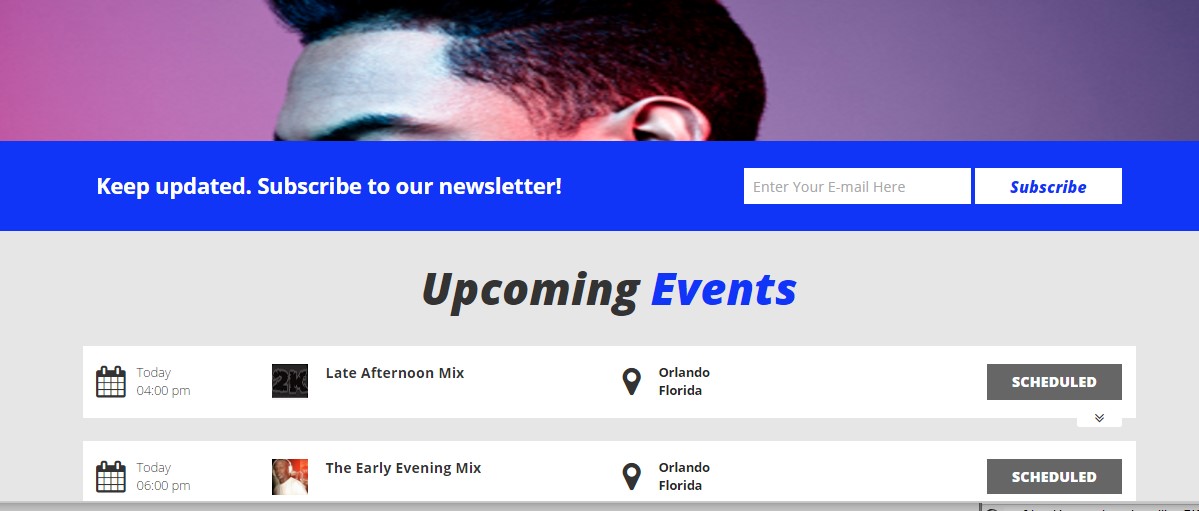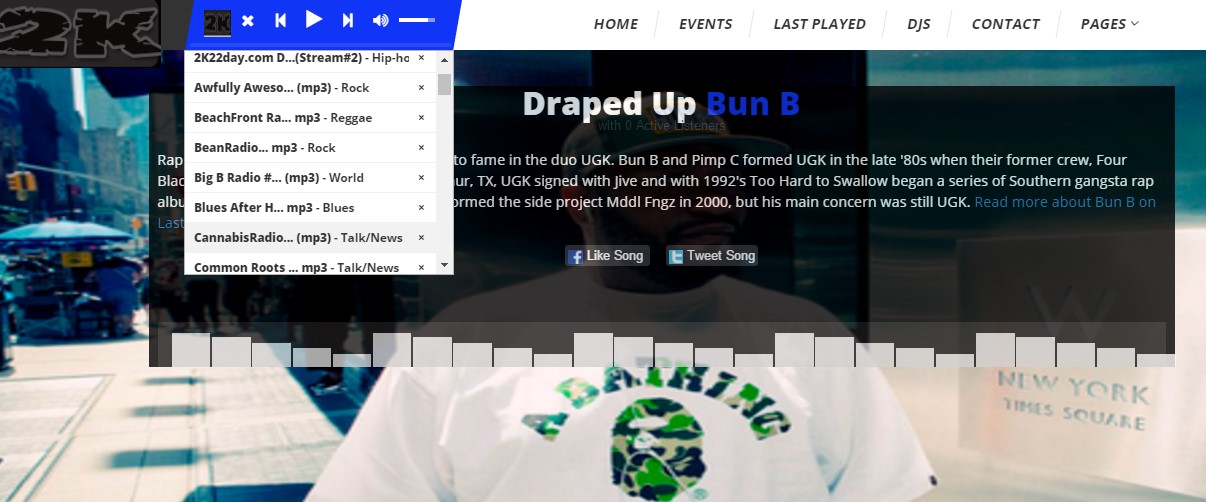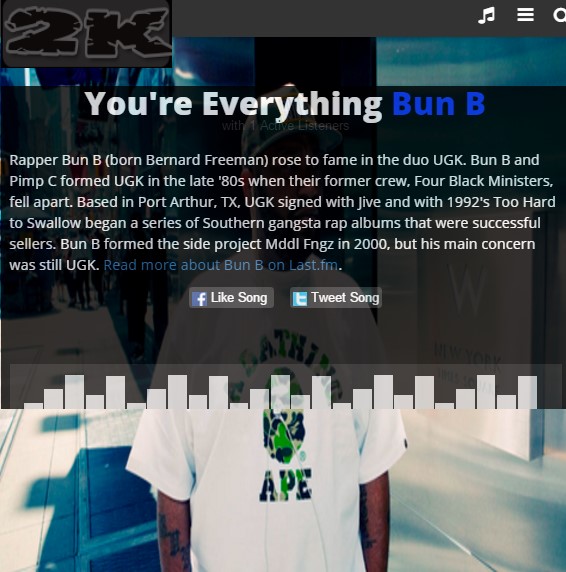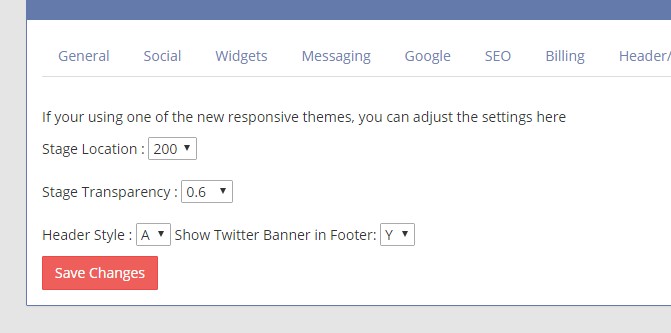 Remember most of your listeners will be on mobile devices, if your using SHOUTcast 2 it is recommended you set up a AAC+ stream on your first mountpoint (current My Auto Dj clints get a free upgrade, we'll give you the extra bitrate and mountoint! Just open a ticket). This template is geared toward mobile, while we think it looks great on standard pc's and laptops, most traffic will be on mobile devices. It's lot cheaper to stream 32Kbs AAC then it is 128 Mp3, which are both eaqual in quality. Save your listeners data plans - switch to AAC+ Today!
IMPORTANT NOTE ABOUT DOMAIN FORWARDING WITH MASKING AND THIS THEME!! Domain Masking, which some clients do to hide the SHOUTcast Widgets URL and replae it wit their own domain. works by using a IFRAME as the main page which doesn't respond correctly well with mobile devices. While it will still work, the mobile conversion doesn't. We'll have a solution to this in coming weeks but for now we recommend you dis able the masking and just use forwarding only. Please open a ticket or chat if you have any questions.
07/27/2016 07:28:03