1. Log In to CPanel - we have several different WHMSonic servers, you can find the link to your WHMSonic Control Panel in your Welcome E-Mail. If you do not have your welcome E-Mail, you can find all E-Mails we ever sent you here http://shoutaccount.com/clientarea.php?action=emails
2. Your MP3's will be stored in a folder you'll need to create - near the top of CPanel, look for "Legacy File manager"
(this can also be done using any FTP Client, we recommend using FileZilla - a free open source FTP client)

Once your inside the file manager, you'll need to confirm your in the /home directory - you may need to click the link "up one level" - the current directory should have a little home icon with a slash - if it has public_html in it, you need to go up a level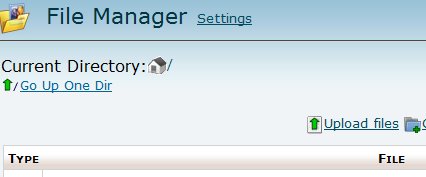 3. Choose "Create a New Folder" - name it mp3a (note!!! In some cases, we may have already set this up for you.)

So, your mp3's will be stored at home/mp3a

4. Choose the mp3 folder you just created by clicking the little folder icon just to the left of it.

5. Choose "Upload Files' - locate some of your mp3's & begin uploading 

- you'll need to upload at least 2 for now!

6. Next, go back to the main CPanel page.

8. Near the bottom, under Software / Services, look for "WHM Sonic Shoutcast Admin Pro"


9. Choose "Auto DJ Management"

10. Choose "Set Up Auto Dj"

11. Choose a encoder type

12. Complete the form to set up your stream

13. When complete, go back to Auto DJ Manager & choose "Playlist manager"

14. Choose the default playlist, then choose "Reload this playlist (SYNC new mp3 files from the base)"

15. Go back to the main page, start the stream

16. Go back to  "Auto DJ Management" , and start the auto dj
Points to Remember
- Your WHMSonic supports both AAC+ and MP3 format. MP3 is the most popular and works with most all media players, but uses more bandwidth -- AAC+ is less popular and works with less media players, yet has higher quality at lower bitrates
- Your WHMSonic package is just that, a package. It includes both Shoutcast server and auto dj. When restarting, you'll need to ensure you have clicked the start button in 2 area ... the server part and the auto dj (source) part.